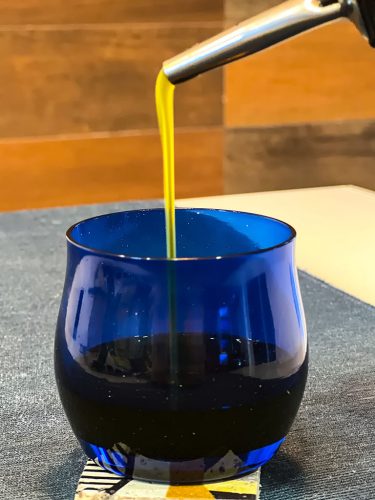 Riserva Masillo Blended Extra Virgin Olive Oil
Riserva Masillo 1919 is a balanced, richly flavoured and fragrant extra virgin olive oil created by blending oils from the different cultivars which are present in the olive grove. The process of cold pressing the olives at a controlled temperature guarantees that the nutritional and physical qualities of the oil are unaltered and its organoleptic properties are preserved so that its benefits may be enjoyed every day.

Chemical analysis to determine the acidity of the oil caused by the presence of oleic acid gives a value below 0.2%. This very low level certify the top quality of our extra virgin olive oil.
The Riserva Masillo 1919 olive grove has about 700 trees, the oldest dating back to around 1700. There are nine different outstanding Italian cultivars planted on different areas of the land.
Grappoletto
of Tuscan origin
Olivastra
of Mediterranean origin
Grignan
of Venetian origin
Racioppella
of Campania origin
Nociara
Origin Puglia and Basilicata
Cima di Melfi
of Melfi origin
Favolosa
from central Puglia
In addition there is a small plantation of cultivars from Spain, Greece, Lebanon and Palestine which produce white olives 7% .
The choice of the cultivars was based on the soil characteristics in the various parts of the olive grove as well as the type of microclimate of Squillani di Roccabascerana (AV).
The olive grove is under the care of the young agronomist, Dr Giorgio Manganiello,
who graduated in 2012 in Agricultural Science and Technology, University of Naples Federico II,
a consultant working with olive farms and oil presses throughout the country.